Garage Door Cable Tracks
Back To Our Services
Garage doors are truly amazing mechanisms. They are not only the most massive movable part of your household but they are very likely the most complicated part as well. They incorporate so many smaller and bigger parts and components that it is almost impossible to list each one of them and let alone to tell which part does what. Well this is impossible for the majority of people and then again it is the reality for some other. We from Garage Door Cable Tracks Bridgewater belong to this later group, where the garage door components are our reality and we are well enjoying it.
Our knowledgeable technicians proudly offer their skills, services, and time to serve Bridgewater Massachusetts and the surrounding area as needed. So, when it comes to crucial components such as your garage door cable tracks, our team is standing by to assist. That is because a spun cable (unseated cable) or a damaged cable is an extremely hazardous condition, which can result in an extensive maintenance procedure. As the cables themselves assist in bearing the weight of the entire door, it is best to contact a professional service such as ours to prevent severe or fatal injury.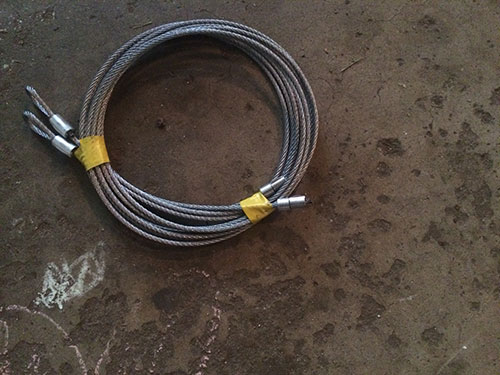 We are a garage door company stationed in Bridgewater Massachusetts. We adore this place and not only because it is great place to live in but because it has the most friendly and kind inhabitants ever. These people deserve only the best and we from Garage Door Cable Tracks Bridgewater go all the way to provide them with nothing but. Our contribution comes in form of garage door maintenance or to be more precisely in terms of garage door table tracks services. We put your garage door back on track and we do that by providing you with various garage door services and products:
We promote and market garage door parts by various manufacturers and producers
We provide various garage door services like repairing and fixing your garage door cable off the drum, we fix your damaged garage door tracks, we successfully cope with bent garage door tracks, we resolve all the garage door trolley, garage door bottom seal, garage door hinges, garage door rollers, garage door bearing problems and much much more.
We provide you with the same day service and immediate emergency service
We provide warranty for everything we offer and we make sure our clients experience nothing but satisfaction when working with us
It is very difficult to find reliable, expert and affordable company these days. We from Garage Door Cable Tracks Bridgewater are all that and much more. We incorporate great quality, deep knowledge and profound understanding of the industry with the skill and technique. Above all of that we are a company that always puts our clients at the first place.
We are available 7 days a week.
We are running a very well organized company so we have technicians and specialist on duty in various shifts throughout the whole day and night, meaning we got your back covered at all times. Our customer support takes all of your calls timely so the only thing you need to worry about is remembering our contact details. And not even this since you can reach us via phone, find us on line or come to meet us in person.
You can also visit our online site for more information about our company, people that make it, service and products we provide and promote, about the techniques we apply, brands and manufacturers we represent, about the products' specifications an many other curious facts from the garage door world. You can also use our net pages to seek our client's comments and feedbacks.
We are looking forward to hearing from you and to sharing our extensive knowledge with you. We hope we will be the ones who will put your garage door back on track and make it stay like that for many years to come!
Call us today!